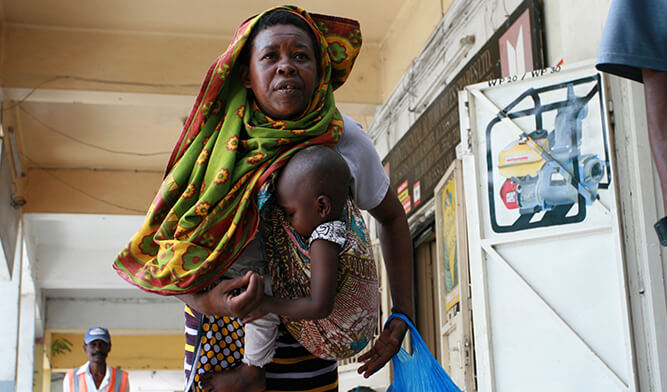 Located in the Kilimanjaro region of Tanzania, Village Narumu is a remote village with a population of more than 226,000. In Tanzania, a village refers to a broad area of small family farms and cattle grazing areas. With a birth rate of 36.8, approximately 23 new babies are being born each day in this secluded village surrounded by a vast region with paved roads What's hidden behind this figure is the number of deaths of newborn babies and their mothers.
It is heart wrenching to know that pregnancy comes as a curse for women at this village. Narumu has an unfortunate reputation of having an extremely high infant mortality rate and maternal death rate. It is appalling that there is only one health center in this village. The center is without proper facilities, equipment, or doctors. In addition to being unsafe for the women in labor, this center is not connected by any transportation facility or road to the villagers. To walk more than 20 miles to this center is an ordeal for pregnant women. Most of the population here comprises peasant farmers who have very meager incomes from the sale of bananas and other subsistence crops.
Dorothy Mboya native of this village, understood this pain. Being born to a poverty stricken family, she felt the unnecessary pain that is being inflicted on this. Simply due to a lack of basic facilities like gloves, scissors, disinfectant fluid and bulb syringes, women and newborn babies were dying. No basic prenatal or midwife training was being provided in the village to change this grave situation. Dorothy Mboya took a pledge to save lives and bring better living standards to this village. The only solution is to build a Labor and Delivery Center, which can help deliver babies and provide prenatal and postpartum mother-infant care. In 2012, she founded Tujenge Maisha Inc. Tujenge Maisha is a non-profit organization dedicated to the cause of opening a dependable center for labor and delivery in Narumu. Tujenge Maisha wants to create an accessible center where women can safely give birth to their babies without the risk of infection or death. Tujenge Maisha is working towards saving the precious lives of mothers and their infants. We want to open a delivery and labor center with all the modern diagnostic equipment and facilities.
Our organization strives towards the betterment of precious lives at Narumu. We are looking for helping hands to join us in this mission. Let us all join forces to save lives in this village. We urge you to donate today to this noble cause. With Tujenge Maisha, you can work towards improving accessibility to prenatal/postpartum care and hygienic delivery for women in this region. Donate now!